THIS GIVEAWAY NOW CLOSED
I am truly honored that, in my short time blogging, my fellow bloggers have not only become friends, teachers, and constant bloggy support, but that they have also found some of my projects (cheap as they may be) worthy of featuring. Last week I posted a much overdue
thank you
to some lovely ladies but this week I must repeat my words and do the same for I was featured 3 more times since then!! I know, way too much self congratulating going on here but I can't help myself!! My life has completely changed over the past 4 months since starting this here blog so I want to make sure my followers know how much I appreciate them and all the warm and fuzzy vibes they have been sending this way!! :) So without further ado...
Thank you to
Organize and Decorate Everything
for finding my
$1.50 Notes Zone
worth a mention regardless of the super small price tag...sometimes the good things in life ARE free...well, close to free! :) Not only is Leanne organized but she is quite crafty as well!! If you need proof, check out her
Metal Stamped Bookmarks
!!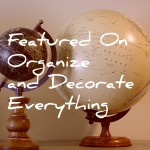 My Bloggy Friend, Jackie, at
Simple Home Life
sent some love my way to feature my simple
Glass Front Cabinet Organization
on the ever so present tight wad budget...it is amazing what one can figure out an use for in a pinch! Jackie is super good with her paint brush and spray can...this gal can even
paint a rug
!! That's some mad skills!! Go check her out...
And Last but certainly not least...a big smooch to Judy from
DIY by Design
for featuring my
$1 Pendant Light Makeover
...a buck is a buck no mater where it lands and I am so happy this buck stopped here! Judy is simply fabulous - don't believe me? Go check out here latest and greatest where she took 4 simple dinner napkins and whittled (OK, she sewed em' but whittled sounded fun...) them into a
tote bag and a pillow
! What a crafty momma!
All three of these lovely ladies host fab linky parties you don't want to miss so be sure to pop on over and let them know you are ready and willing to link up!! You may be next weeks feature!!!
And since I am feeling so very happy and generous I have decided to go forward with my 2nd GIVEAWAY!! I mentioned last week that once I hit 200 followers I would be giving away another 1 year subscription to
DWELL
magazine...and the time has come, folks!! But WAIT - since I am feeling SUPER generous I am actually giving away 2 subscriptions...YES, that's right, 2 winners!!
Haven't heard of
DWELL
? You don't know what you are missing, lady!! Check out this inspiring little craft aimed to keep your counter space clear while providing storage for everyday projects
Or tons of tips for living - check out a glimpse of this mini garden idea for condo living...
Or perhaps you feel like building your own work/craft studio?? Check out
this
article that even show a floor plan...
Intrigued? I knew you'd be!! So step right up and comment away to enter yourself to win 12 months worth of monthly eye candy to drool over. It will show up in your mailbox like a beacon in the night calling you home to where your imagination will soar with all the possibilities of home remodeling and construction projects your husband will surely roll his eyes at while muttering in sheer horror and frustration..."You wanna do what??" You, too, can be the envy off all your friends when you tell them your latest edition arrived and you must skip your brunch plans to pour over the latest glossy pages while eating bon bons and drinking a
glass
bottle of wine. OK - back to the program here...
Here are the juicy details and a few simple rules...
*****MANDATORY
*****
Since this GIVEAWAY is in honor of my followers you must be a follower to enter...makes sense, right?! If you follow just tell me so - if you don't yet follow and/or if you don't know how to do that just
go to the right sidebar and click on this image
...
That was easy, right?? Now go and leave a message in the comments section lettng me know you are my newest follower!! :)
Do you want more chances to win?? Keep on readin' cuz there are more to come!!
Follow me on Twitter and/or FB...make sure to comment for each one you do as they count for one entry EACH. If you already Follow BOOYAH!! Make sure to let me know (in separate comments, of course!)
Tweet and/or FB about my GIVEAWAY - one entry for each...
Post my GIVEAWAY Button on your sidebar and/or blog about my GIVEAWAY in your post...a seperate entry for each!!
And just for kicks - tell me a little some some about yourself...favorite color, favorite food, favorite day of the week and why - anything!! That is another entry for ya'll!
That equals 8 different ways to enter. Do them all at once or spread them out...I don't much care whatcha do just get er' done!! I will keep this GIVEAWAY (you like how I always have to put it in caps like I am a game show announcer...it's kind of creepy, actually!) open through Sunday night and the winners will be announced on Monday morning...along with a fabulous post I am am sure you will read every word of instead of just skipping to the very bottom where the winners will be announced...I know how ya'll operate!! :)
UPDATE - I realized the wording was a bit off as I was going to post this Monday but pushed it up to Sunday so I have changed the deadline to Wednesday and will post the winner Thursday...Sorry for any confusion this may have caused!!
Stay tuned for tomorrows post where I show ya what I have been slaving over for the past week...OK, maybe not that long but it sure feels like it! The good news is I am much more organized because of all
my
our hard work!! Oh, and I promised an update on the buffet...wait till you see what it's lookin' like these days!!!
See you all here tomorrow...
Bianca
DWELL magazine, giveaway, featured blogger,
May issue of Dwell Magazine cover taken from here!!