I apologize in advance for the MAJOR FIST PUMPING as well as the mess that is about to be made as my ticker tape parade bursts through your computer screen!!
That's right - I made it to "One"derland...OK - if you are not a Biggest Loser fan that reference may have escaped you but basically I made it to 100 followers (and then some!). The only difference between my "One"derland and The Biggest Losers is that my numbers are going up as theirs should be going down.... Well, I am sure there are a few other differences but anyway... I know I have already thanked you guys profusely for all of your support but I figured once more wouldn't be so bad...

I am glad I got that out of my system...Now on with the show and the GIVEAWAY FUN!!
I had a hard time trying to figure out what would be an appropriate gift for such an occasion. I wanted to say thank you without being cheesy. I want to include my love of DIY fun and my ever so present frugality. I couldn't leave out my addiction to Ikea nor my love of all things food... How could I find something to encompass it all!! And then I realized...why not do it all!!!!
Here is what you will WIN:
A 1 year subscription to Dwell Magazine...to drool over all the beautiful homes and get some great design ideas!
$20 towards your next trip to Ikea so you can try to one up me in the "I got this in the As Is section" on going contest of my mind...
Your very own copy of Everyday Italian by Giada De Laurentiis...

gently used by yours truly

! That's right - you too will be able to rub shoulders in the kitchen of one of the most popular stars of Food Network...just don't forget to blog about it on Foodie Friday!!! :)
Not bad for a first giveaway...I am tempted to comment myself! :)
Here are the 4 different ways to Enter - PLEASE REMEMBER -YOU MUST LEAVE A COMMENT FOR EACH ENTRY TO BE COUNTED!!
1.

MANDATORY - Become a follower of this here blog (if you aren't already) and leave a comment saying just how excited you are...OK, you can skip the "how excited you are" part...If you are already a follower just say so in your comment!
2. Follow me on Facebook and/or Twitter - there are links conveniently located right above the "followers" section! I made it so easy for ya'll! You will get one entry each for FB and Twitter...
3. Take my button and paste it to your sidebar or post about this giveaway with a link back to Little Brick Ranch. (See Below)
4. Tweet about this giveaway and send your peeps back here!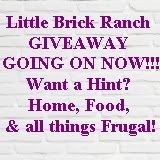 So that's it! You have 4 (actually 5 if you FB AND Tweet!) total chances to win this fabulous prize! The winner will be picked at random and posted next Monday 4/8.
Be sure to leave your email address when you comment or I can not reach you to let you know if you won and I will have to move on to another winner...you soooo don't want that to happen!!
EVERYONE is welcome to enter. Unfortunately, this giveaway is not best suited for those out of the US due to DWELL not shipping out of the US...
But don't run off just yet!! If you live elsewhere we will come up with something special just for you!! :)
This giveaway will be open for entries ALL WEEK LONG. A winner will be picked randomly next Sunday evening and announced Monday 4/11.
GOOD LUCK TO ALL!!
Contest is now Closed...Please check back Monday to see Who WON!!