Sorry in advance for the super long post but when on a mission you must be thorough and complete in your reporting style...this quest was no exception...
Last week my mom and I headed to Maine on a mission...well, two actually...
1. A surprise visit to my sister and her husband.
2. Our quest to find the PERFECT lobster roll, "
lobsta
" to those in Maine. I will continue with my use of
lobsta
throughout this post as this word was repeated ENDLESSLY throughout our trip...
Surprising my sister was the easy part. Land in Boston, shoot out a text with "Call me asap" (in order to scare her into thinking something is wrong so she would call me faster ) and soon receive a return call. The conversation went a little something like this:
B - "Nat, what is the weather like in Maine?"
N - "
Ummm
, about 28 degrees?"
B - "Oh, so it's about the same as Boston right now..."
N - "You are in Boston?"
B - "Yes! Mom wants to know what you guys want for dinner!"
And that's how it's done. With a 5 hour drive ahead of us we set off for the second part of our mission...
Proof That we MUST be in the Right Place! It's the Way Life Should Be...
Though the surprise to my sister was easy - the quest for the perfect
lobsta
roll was a whole other story!! One should not take on such a quest in the off season without being forewarned that your mission will be a long and challenging one. You may drive 20 miles out of the way for the illusive "best"
lobsta
roll to find The Clam Shack closed for the season...which ironically opens in 5 days from the very moment you are standing and drooling at it's order window...
arghhh
...
You may also be
soooo
satisfied by a specific
lobsta
roll that you accidentally drive off the side of the road and into a muddy ditch at the very thought of its buttery crispy bun and chunky sweet
lobsta
goodness...
Thank goodness for AAA!
Regardless of your situation - please know, this is a mission not to be taken lightly. This is a mission of pure pleasure and gluttony...and one we thoroughly enjoyed.
After traipsing the outskirts of Massachusetts and the inland of New Hampshire we hit the bottom of Maine. Immediately there were signs of good things to come...
First Lobster Sighting!
Our first stop was
Kittery
, Maine which is just North of the border and a place we had been before. Though not on a mission our previous visit, we were sure to hit it up Bob's Clam Hut which was guaranteed to delight! With our travel weary bodies we hoisted ourselves up to the counter to order our first lobster roll of the mission.
Right on the Side of the Road...You Can't Miss it!!
How cute are these Basket Lamps??
The Very Satisfied Residents of

Kittery
I can sum this baby up in 4 words - Buttery, Sweet, Crunchy, and Creamy. That is all that truly needs to be said but for the sake of Old Bob I will go just a wee bit further. The lobster was chunky and bright red...super fresh, plump, sweet, and with just a hint of mayo mixed in. The bun...
ohhhh
, the bun....the best of all buns to come this baby was buttery and crisp with the right amount of crunch and soft fluffy texture inside. Our plate was followed up with a healthy dose of fries and a nice cold pickle wedge...
HELLLOOOO

LOVA

!
Sweet Lumps of FRESH Lobster...
A Much Needed Close up Of the Buttered Bun!
The Judging Begins...
At $13.95 including fries and the 2 tubs of tarter sauce I requested - this baby was well worth its weight in
gold
lobster. We were tempted to order another but, alas, we had to save room and push on...
Our second lobster roll jaunt was another I had visited before...The Thirsty Whale in Bar Harbor. Normally this place has a line out the door so when we walked in to an empty bar I new we were in trouble...we walked in, sat down, and were all set to order when we found out....No lobster rolls.
Booooo
. Instead we decided to order a basket of fried pickles before heading down the street to another recommended townie spot...
Geddy's
. First - let's have a look at these pickles...
Cripsy

, Hot, With A Kick of Spice...

Sooo

Good With the Cold Creaminess of Ranch!
Yum!!!! Check my features for your own chance to make these babies!! :)
Down the street we came across the aforementioned
Geddy's
. The interior was, well, busy to say the least. It seemed like a great place to come with a group, have some drinks, and chow on some good ole' fashion fried delights!! We, however, were still
jonesin
' for the best
Lobsta
Roll...
We explained our mission to the Waitress and in about 5 minutes flat our order was on the table...I didn't even have time to color my place mat!! Big plus for speedy service but I was more concerned with my roll so we dove in... after taking a few pics of course:
Geddy's

Lobsta

Roll...Served With Chips and Slaw
No

Butta

?
This lobster roll was quick and speedy but left us feeling a bit soggy and limp. The lobster seemed to be previously frozen and was a bit stringy and waterlogged...similar to when you buy frozen crab legs and try to do a quick defrost. Plus it was cold...very cold which tends to steal the flavors from food. Have you ever noticed when you have something piping hot or freezing cold it tastes much different then when it is
luke
warm or slightly chilled? This was such the case for our poor
Lobsta
Roll. Our bun was grilled but no butter...what is a
Lobsta
Roll without
Butta
??
Mom - Clearly Unimpressed With Her

Lobsta

Roll...Seriously? No

Butta

??
My mom was quick to sum it all up...
though they do have fresh lobsters in a tank, my mother believes those are just pets..."you never eat pets...that's why they never name cows or chickens."
Oh to be witness to her many nuggets of wisdom...
Despite all of the downsides listed,
Geddy's
Lobsta
Roll was still good...just not great. At $16.95 a pop you would hope for a bit more freshness and oomph to your roll. Perhaps during the season the
lobsta
roll would have been fresh and not frozen...regardless we had to judge on this instance and this instance only. Let's just say we were happy to have ordered just one because we got wind of another restaurant in town that had opened early for the season...right next door from where we were!! Yeah!!
Enter
Galyan's
. My mom took an instant liking to the place with it's Irish name, Victorian look, and fresh coffee smells upon entering. She was already sold...but I wasn't so easily swayed. Once again we ordered 1 lobster roll. Judging by service alone I would have to say this was the nicest of the 3 places we visited and by far had the best view. The waitress was super friendly and, upon hearing what we were doing, even had the chef split our
lobsta
roll in two! So sweet!! This
Lobsta
Roll came with some chips and a side of slaw...not any old slaw...super slaw! I can't remember what she said was in it but my mom's spot on taste buds detected celery seeds which the waitress confirmed. It was a vinegar based slaw and I gobbled it up like nobodies business even though I normally HATE
slaws
!
First I must start by saying that
Galyan's
Lobsta
Roll was a bit less traditional than the other two we sampled. The added a touch of paprika to the top (which, although pretty, was definitely not needed) as well as a leaf of romaine lettuce. Again - not necessary but the crunch of the lettuce was a delightful little surprise. The bun was BUTTERED!!! Yeah - we found ourselves another buttered bun!! Though
Galyan's
buns were not AS buttered as Bob's (tee
hee
) we were super happy to taste its crunchy buttery deliciousness.
Hello Sweet Chunks of Fresh

Lobsta

! We Missed You!
Romaine...See? And Lot's O Butta!!
At $15 bucks a pop this bad boy came in at the second priciest (or cheapest depending on how ya' put it) and was a delicious contender. At this point we did not stop at just the lobster roll...when I overheard the waitress telling the table next to us desserts I had to give in. What is pure decadence of lobster tasting without Creme Brulee to follow it up?? When this beauty came I was too excited to take pictures so I jumped right in...of course, after declaring it THE BEST CREME BRULEE I HAVE EVER EATEN...and I have eaten A LOT of Creme Brulee...I had to restrain myself to stop and take a pic or 2...
Notice the Little Bit My Mom Ate on Her Side and The Rest I Devoured??
Not only did this brulee have the crunchy top and creamy filling as most brulee's, but it had a saltiness to it that I have never ever encountered in another brulee. Like a burnt caramel or buttered cream...I can't explain it I just know it was something special. So special, in fact, that if I was on death row and they asked what I would like for my final meal I would ask for this...only this. After eating this I could die ~peacefully~...

Although Galyans had the best dessert on the face of the planet,

Bob's Clam Hut

in Kittery has officially been declared the BEST LOBSTA ROLL

in this edition of The Quest for The Best Lobsta Roll in Maine. Galyan's was a close second and Geddy's was a distant third...very distant...like a long lost somehow related cousin that you will never meet in your whole lifetime and probably will never even know he existed...

Let's take one last look at Bob's clam Hut's divine lobsta roll - buttery buns and all:
This concludes our quest for the BEST LOBSTA ROLL!!!
I am linking my Manhatten Beach Trip to Centsational Girl's Travel Forum. Stop by to check it out and link up!! :)
Last Weeks Foodie Friday Features...
We didn't do much of any cooking this week (I was super busy on my closets and new furniture!!) but the following are recipes on our To Do list:
These Ginger Turkey purses are sure to delight!! Thanks to
Sugar and Spice in The Land of Balls and Sticks
this made E's top 2 recipes this week! We have yet to try them but they look relatively simple and super delicious!!
Fried Pickles...YES, please!! You can see from above Mom and I were big fans of the fried pickles in Maine. When I saw these babies making the linky party circuit I hopped over right away and requested Melissa of
Melissa's Cuisine
to link them up here!! Thanks, Melissa!!
You know how much I love me some PB+Chocolate...check out this Inside Out Peanut Butter Cup from
Flour Me With Love
. Does it get any more decadent than this???
Speaking of chocolate...Check out this super easy trick to add a little nutrition to your next box of brownies!! I don't want to give it away but let's just say ordinary brownies become extraordinary with the magical fruit...Get it?? Check them out at
Local Fun For Kids
!!
Sorry for the Tiny Photo - If I make it Bigger it's too Blurry!!
Congrats to all!! Make sure to pick up you Featured Button on my right sidebar!! :)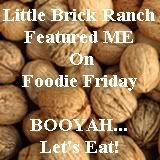 Foodie Friday Linky's Have Been Removed - Check the FF Button For Previous Features